Some of our past PTG Installations…
Paradise Transition Gardens: The Beginning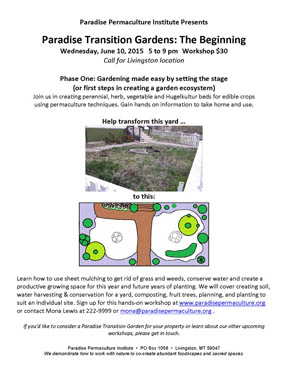 PAST EVENT: Wednesday, June 10, 2015
5 to 9pm  • $30
Call for Livingston location
Phase One: Gardening made easy by setting the stage (or first steps in creating a garden ecosystem) Join us in creating perennial, herb, vegetable and Hugelkultur beds for edible crops using permaculture techniques. Gain hands-on information to use at home.
Click on the flyer for details.
From Weeds to Food Gardens in a Day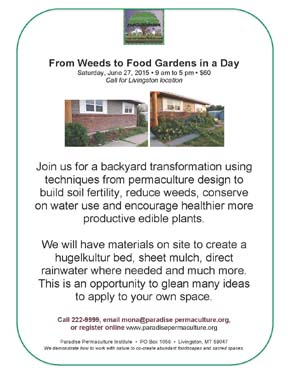 PAST EVENT: Saturday, June 27, 2015
9 am to 5 pm • $60
Call for Livingston location
Join us for a backyard transformation using techniques from permaculture design to build soil fertility, reduce weeds, conserve on water use and encourage healthier more productive edible plants.
Click on the flyer for details.