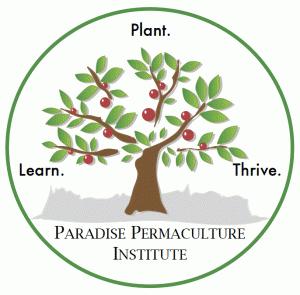 Welcome to Paradise Permaculture Institute.
Intelligent Design for Sustainability
Fall Class Schedule Coming Soon. Join our mailing list to get notifications.
Medicinal Plants in the Kitchen. Class to be rescheduled for Fall 2017.
NOTE: The Medicinal Plants in the Kitchen workshop, originally scheduled for June 29, was cancelled. We are rescheduling for Fall 2017. If you would like to get on the list to be notified of this and upcoming PPI events, please join our mailing list using the button below. Or, to learn more, href="http://www.paradisepermaculture.org/contact/">please send us a message via our contact form. How to spice for health with culinary herbs!
"Let food be thy medicine and medicine be thy food." Hippocrates
Instructor: Kristine Backes offers consultations, workshops and mentoring rooted in nature-based healing traditions. She loves to show people how to listen to their own wisdom by moving in closer harmony with nature. Kristine is a registered yoga teacher, holds a master's degree in organizational leadership, and has studied Ayurveda and other traditional healing methods for over a decade.
VIDEOS
Featured Video: Introduction to Paradise Permaculture Institute

ARTICLES ABOUT PPI
PAST EVENTS