Welcome to Paradise Permaculture Institute.
Intelligent Design for Sustainability
PPI EVENTS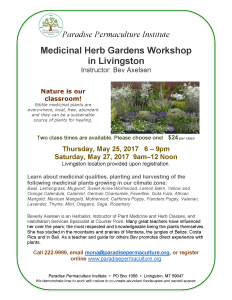 Medicinal Herb Gardens Workshop in Livingston: Learn about medicinal qualities, planting and harvesting of the following medicinal plants growing in our climate zone: Basil, Lemongrass, Mugwort, Sweet Annie Wormwood, Lemon Balm, Yellow and Orange Calendula, Calamint, German Chamomile, Feverfew, Gota Kola, African Marigold, Mexican Marigold, Motherwort, California Poppy, Flanders Poppy, Valerian, Lavender, Thyme, Mint, Oregano, Sage, Rosemary.
Two class times are available. Please choose one! $24 per class. Thursday, May 25, 2017 6 – 9pm. Saturday, May 27, 2017 9am–12 Noon. Instructor: Bev Axelsen. Sign up here or contact us for more information.
Plant Walk with Bev Axelsen. June 10, 2017. 9am. For more information or to get on the list for the class, please use our contact form.
VIDEOS

Watch the video: Rolling High Tunnel Project – Paradise Permaculture from Montana Filmmaker on Vimeo.
For more information about the RHT project, click here.
Featured Video: Introduction to Paradise Permaculture Institute

ARTICLES ABOUT PPI
Read an article in the Park County Community Journal about the October 2015 Medicinal Plant Walk.

PAST EVENTS
See a full list of past events.
Note: The 2016 Plant Walks workshop series has ended. Please contact us for information on our 2017 series.
Plant Walks with Bev Axelsen: Thursday evenings and Saturday mornings
Edible medicinal plants are everywhere, local, free, abundant and they can be a sustainable source of plants for healing.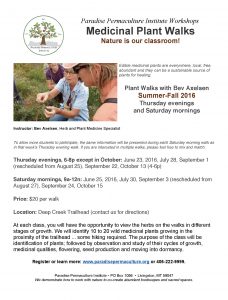 (To allow more students to participate, the same information will be presented during each Saturday morning walk as in that week's Thursday evening walk. If you are interested in multiple walks, please feel free to mix and match.)
When: Thursday evenings, 6-8p except in October: June 23, 2016, July 28, September 1 (rescheduled from August 25), September 22, October 13 (4-6p)
Saturday mornings, 9a-12n: June 25, 2016, July 30, September 3 (rescheduled from August 27), October 1 (rescheduled from September 24), October 15
Price: $20 per walk 
Location: Deep Creek Trailhead (contact us for directions)
We will identify 10 to 20 wild medicinal plants growing in the proximity of the trailhead … some hiking required. The purpose of the class will be identification of plants; followed by observation and study of their cycles of growth, medicinal qualities, flowering, seed production and moving into dormancy.
Click here for registration or for additional information.